A Detailed Look At The Uneekor EYE XO Launch Monitor
SwingSense, 1 year ago
0
3 min

read
1015
The EYE XO, widely preferred by golfers everywhere, is an overhead-type launch monitor. It comes with two lightning fast cameras, along with multiple infrared devices to measure a range of club and ball statistics. The EYE XO's cameras can record at speeds of over 3000 frames per second, setting the stage for the highly advanced EYE XO Optix technology. Users of the monitor can easily go through slow-motion footage of the club striking the ball.
Even the most sensitive golfers will be delighted with all the features and the high level of precision offered by the EYE XO. It is well-suited for a streamlined and hassle-free experience for both right-handed and left-handed play. The Uneekor EYE XO launch monitor is perfectly compatible with TGC 2019, the most advanced golf simulation software on the planet now. It can be just what you need to take your game to the next level.
The Uneekor EYE XO launch monitor is equipped with the proprietary View software module of Uneekor. This software features EYE XO Optix footage, numerous diagrams with dispersion statistics, a three-dimensional range and swing analysis. Users who can upgrade to the company's other software packages i.e. Succeed or Refine that offer multiplayer modes, full-course gameplay and many more features.

As the EYE XO is an overhead-type launch monitor, the setup method is nearly identical to that of the Uneekor QED. The sensor bar must be firmly fixed to a room's ceiling, with wires attaching it to a computer system and an outlet. For safety purposes, Uneekor suggests that the bracket be installed carefully by multiple people. It has to be set up on a flat plane that can easily withstand a weight of 30 pounds or more.
What is Measured by the EYE XO?
The EYE XO is capable of measuring many data parameters. These include – 
ball speed

apex distance

launch angle

run

carry distance

total distance

back spin

side spin

total angle

side angle

descent angle 

smash factor 

attack angle

club lie angle

club path

club head speed

club loft angle

dynamic loft

club face angle
club face to path

vertical impact point

horizontal impact point
The accuracy of the Uneekor EYE XO launch monitor is quite high and easily comparable to many other top options on the market. It has some of the newest and most advanced camera systems of any launch monitor now. The EYE XO is also more accurate compared to the QED from Uneekor.
The Optix technology in the EYE XO has 3 segments:
Ball Optix: This displays a nearby image of the position of a ball in relation to a club face, along with the real spin of the ball following each shot.

Club Optix: Club Optix displays the club alignment on impact, along with a real-time slow-mo ball impact club video.

Swing Optix: Swing Optix: Multi-angle video capture with gradual replay, along with tools for drawing over.
Get familiar with the Uneekor EYE XO launch monitor and its features by checking out the information shared above. 
SwingSense
We are a one-stop-shop for indoor golf equipment and supplies and a full-service digital marketing and distribution agency offering a wide range of solutions for the golf industry. With innovative data-driven marketing strategies, we help golf related businesses of any size maximize their online earning potential.
Related posts
Advertisement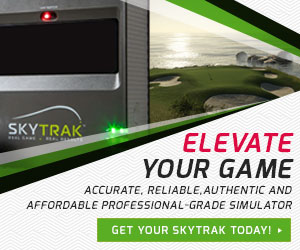 PRACTICE AND PLAY LIKE A PRO!
Imagine having the technology to play golf on your terms, and the insight to take your game to the next level. SkyTrak is a personal launch monitor that delivers instant and real-time 3D shot analysis and ball-flight data.
Learn more
Subscribe Now
* Become a SwingSense Newsletter subscriber to get access to exclusive insider offers, promotions and discounts!