Once upon a time, it was a crucial task for golfers to find their way around the golf course. Measuring the distance on the course also involved a lot of guesswork, for there was no way to get certain yardage. However, times have changed, and technology has come a long way. With the constant improvement and innovation in the field of golf technology, golfers can leverage various gadgets now. And golf rangefinders indeed play one of the most important roles. These incredible gadgets are designed to help you estimate the yardage on the course with absolute accuracy and precision. Therefore, if you don't one yet, it is time you should consider getting one. 
Choosing a suitable rangefinder, however, could be a difficult task. There are a lot of things to consider, such as performance, accuracy, portability, and of course, technology. In this regard, it is generally accepted that laser rangefinders provide more accuracy and ease of use compared to GPS devices. Yet, with hundreds of laser rangefinder models, it is still a tough call. However, Bushnell Tour V5 and Callaway Tour S continue to be the most popular choice among golfers worldwide. In this blog, we have made a brief comparison between these two products to help you choose. Read on to know more.  
Bushnell Tour V5 Laser Rangefinder
Bushnell Tour V5 is the latest product in Bushnell's series of premium laser rangefinders. It incorporates the most advanced technology and specifications from Bushnell Pro XE but comes at a relatively budget-friendly price. It is arguably the most powerful rangefinder from Bushnell.  
Tour V5 integrates the same laser technology that is used by the military. Therefore, you can rest assured of its accuracy. Besides, it uses the advanced JOLT with Pin Seeker technology to zero in on the target, offering the best-in-class precision.  
Tour V5 also has a great Slope Compensation feature that calculates and adjusts the yardage depending on the elevation change. With the easy Slope-Switch buttons, you can easily turn off this feature and make it tournament-approved.  Bushnell Tour V5 is also ergonomically designed for a smooth golf experience.  
Callaway Tour S Laser Rangefinder
Tour S is undoubtedly the most advanced product from Callaway. This premium laser rangefinder also ensures immaculate accuracy thanks to its improved Pin Acquisition Technology (PAT). With this, you can lock on any target with absolute precision. The Prism Mode further enhances the accuracy. This feature helps to lock on any flag-mounted reflector and gives you infallible measurements every time. Besides, you can easily toggle between these two modes to suit your needs.  
The highlight of the Callaway Tour S Rangefinder is its superior magnification. It offers an impressive 7x magnification that is hard to find in any other similar product. With Tour S, you can view any target within the 1200-yard range. Callaway Tour S also features a stunning Slope Compensation.  
SwingSense
We are a one-stop-shop for indoor golf equipment and supplies and a full-service digital marketing and distribution agency offering a wide range of solutions for the golf industry. With innovative data-driven marketing strategies, we help golf related businesses of any size maximize their online earning potential.
Related posts
Advertisement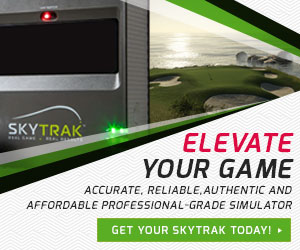 PRACTICE AND PLAY LIKE A PRO!
Imagine having the technology to play golf on your terms, and the insight to take your game to the next level. SkyTrak is a personal launch monitor that delivers instant and real-time 3D shot analysis and ball-flight data.
Learn more
Subscribe Now
* Become a SwingSense Newsletter subscriber to get access to exclusive insider offers, promotions and discounts!