Golf launch monitors are important components for any golfing enthusiast that needs to have a fruitful simulation experience. If you want to practice your swings and putts at home, a high-quality feature-rich golf launch monitor is an absolute necessity. The benefits are more than just people being able to practice shots at home. Most launch monitors come with capabilities to measure different parameters that help golfers evaluate exactly how well they are performing. Such data can be invaluable for game improvement. 
Launch monitors are invaluable for what they provide to golfers at their homes. Measurements tell you how far you are hitting balls and how well you are swinging them. Many golfers may consider it difficult to have a set up like a driving range at their homes due to budget and space constraints. But there are some simulator systems that can suit your home quite well. Take a look at Garmin R10 vs Flightscope Mevo Plus.
The Garmin Approach R10 launch monitor is a relatively new golf launch monitor system and is known for its portability. This lightweight system has a compact design but a great number of powerful features for users. It comes with the revolutionary Doppler radar technology, and is suitable for use in both outdoor and indoor settings. This launch monitor can be connected to the Garmin Golf application to monitor several key performance parameters such as ball metrics and swing metrics. It gives fast and accurate readings to let users perfect their game. Some of the other vital parameters it tracks and measures include total and carry distance, clubhead speed, ball head speed, spin axis, launch angle, smash factor, apex height, attack angle, and spin rate.
In addition, this device comes with state-of-the-art features such as club path and clubface angle monitoring to further enhance performance. Its Swung Capture mode can be accessed through the application on any connected device, to facilitate video recording of swings. Users can overlay footage and metrics to analyze their performances on the green. Garmin Approach R10 Launch Monitor can be used for about 10 hours on a single charge.
Flightscope Mevo Plus is another top golf launch monitor option that empowers golfers with the power of accurate data. It can be a vital tool to help you unlock your true potential as a golfer and help to improve the weaker areas of your game. This launch monitor has gained popularity among some top golfers around the world. It is a feature-rich offering used by the likes of golf maestro Bryson DeChambeau. The Flightscope MEVO+ launch monitor also uses the cutting edge Doppler radar technology to measure club path and ball flight data for its users.
Some of the other parameters it can measure include flight time, apex height, horizontal and vertical launch angle, ball speed, clubhead speed, lateral landing, total distance, spin axis, shot shape, roll distance, smashes factor, and more. It features three-dimensional trajectory tracking technology to provide precision readings and is a device well suited for indoor and outdoor use.
Check out the features of the above-mentioned golf launch monitors Garmin R10 vs Flightscope mevo plus and make the right selection for yourself.
SwingSense
We are a one-stop-shop for indoor golf equipment and supplies and a full-service digital marketing and distribution agency offering a wide range of solutions for the golf industry. With innovative data-driven marketing strategies, we help golf related businesses of any size maximize their online earning potential.
Related posts
Advertisement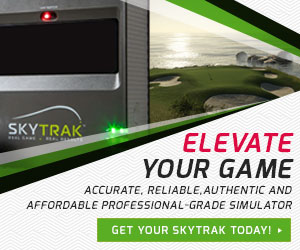 PRACTICE AND PLAY LIKE A PRO!
Imagine having the technology to play golf on your terms, and the insight to take your game to the next level. SkyTrak is a personal launch monitor that delivers instant and real-time 3D shot analysis and ball-flight data.
Learn more
Subscribe Now
* Become a SwingSense Newsletter subscriber to get access to exclusive insider offers, promotions and discounts!