If you are serious about your game improvement, having a personal indoor golf studio could be a game-changer for you. This way, you can practice uninterrupted any time you want, without having to step out of the comfort of home. But as much as you want to get started with the private sessions, make sure you have the perfect environment for it. You obviously don't want to tee off a carpet or hardwood floor, since it can cause acute damage to both your club and floor. Besides, you can even get a serious injury from the rough impact as well. This is why you need excellent quality golf hitting mat. They are designed to let you hit your shots freely, as well as mimic the authentic feeling of a real golf course. 
Considering the factors, Fiberbuilt golf mats have long been a leading choice among golfers. Thanks to its unique divot simulation technology, the incredible golf mat puts an end to your worry about putting unnecessary pressure on your body while hitting the full strokes. It is also highly impact-resistant that eliminates the aftershock that usually results in serious joint injuries or pain. Flexible, durable, and easily portable, it is no wonder Fiberbuilt golf mats are highly recommended by golfers everywhere. 
Keeping up with the popularity, Fiberbuilt has introduced an all-new series of golf hitting mats—Fiberbuilt Grass Series. The new line of products promises a better indoor golf experience. If you are thinking of buying new golf hitting mat for the upcoming season, have a look at the features of this new and improved golf mat before you make any decision. 
Fiberbuilt Grass Series is made with injury protection and comfort in mind. It is designed to effectively cut the turf shock that is common in traditional mats. With the Low-Friction grass design, you can freely hit the club down and through without getting hurt. The unique design also helps enhance the durability of the new Grass Series mats. 
The new Fiberbuilt Grass Series is built specifically to withstand the elements as well as the repeated club contact. The tough micro-profile and crimped nylon fibers laced with UV inhibitors push its performance to the next level, with a guaranteed of 300000+ shots. No other product in this category can match up to this level of durability. 
Fiberbuilt Grass Series golf hitting mats are constructed on a solid-grip rubber base with Low-Friction grass made from premium nylon. It supplies the ultimate traction and comfort underfoot. Moreover, it can be customized to fit virtually any shape or size. 
The solid rubber grip of the hitting mat prevents it from slipping or sliding, giving you more stability and confidence. Moreover, with an improved modular construction base, assembling the hitting mat has never been easier. No tool or help is needed. Do it single-handedly under five minutes. 
Fiberbuilt Grass Series comes in a variety of options in shape, size, and profiles. Check out the collection today and bring home the best golf mat.
SwingSense
We are a one-stop-shop for indoor golf equipment and supplies and a full-service digital marketing and distribution agency offering a wide range of solutions for the golf industry. With innovative data-driven marketing strategies, we help golf related businesses of any size maximize their online earning potential.
Related posts
Advertisement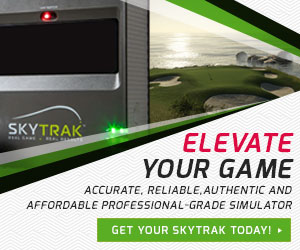 PRACTICE AND PLAY LIKE A PRO!
Imagine having the technology to play golf on your terms, and the insight to take your game to the next level. SkyTrak is a personal launch monitor that delivers instant and real-time 3D shot analysis and ball-flight data.
Learn more
Subscribe Now
* Become a SwingSense Newsletter subscriber to get access to exclusive insider offers, promotions and discounts!