SkyTrak Golf Launch Monitor : The Best Golf Simulator for Your Indoor Golf System
SwingSense, 2 years ago
0
3 min

read
1387
Choosing a golf launch monitor can be a crucial process for any golf enthusiast. Launch monitors are not only the most important element of your golf simulator but also the costliest item among the lot.
Therefore, before investing in an expensive gadget, you must understand what suits your need best. Among the thousands of golf simulators available today, SkyTrak has been deemed as one of the most preferred brands among golf experts. According to Golf Digest's survey, it has been voted as the Best Value Golf Simulator for consecutive two years.
There are a number of reasons behind the soaring reputation of the SkyTrak golf simulator. The major two reasons are its high level of accuracy and loads of simulation software being integrated into the device. The affordable price is another reason for its popularity.
However, the features that make the SkyTrak golf simulator so well-received among all golf enthusiasts are its portability and user-friendliness. So, if you are contemplating setting up a home golf studio, SkyTrak will be the most preferable golf launch monitor for you. Read on to know the details about the product. 
SkyTrak is known for its photometric camera technology that accounts for its high accuracy. This high-speed camera technology calculates the shots by capturing multiple images of the ball before, during, and after the impact. Compared to most other launch monitors available today,
SkyTrak provides the most accurate and reliable data on your shots. The ball flight model of the brand has been repeatedly tested with both human and robot testing for measured total/ carry and offline distance. The launch monitor also provides a very realistic depiction of your ball flight, especially within close proximity.  
If you play the game for recreational purposes, this is perhaps the best choice for you. The software package installed on the launch monitor is exclusively appealing for recreational golfers. With SkyTrak, you can enjoy playing in some of the world's best golf courses from your home.
The product has more than 170,000 golf courses, including some premiere ranges like Pinehurst and Band Dunes. You can further enhance your experience with an advanced realistic golf simulation package. Moreover, you can design your courses and discover more user-designed courses. 
Compared to most other golf launch monitors, SkyTrak requires smaller space. It usually needs only a few feet of the ball flight to measure the ball data and should be placed right in front of the ball. . If you have just the right space to swing your club, you are good to use a SkyTrak launch monitor. Considering the smaller space requirement of SkyTrak, it is better suited for using indoors. 
SkyTrak is very easy to use. The app is very user-friendly and allows the monitor to display the swing numbers easily. The monitor is compatible with both Android and iOS and does not need a Wi-Fi connection. It is lightweight and portable, making it ideal for a temporary indoor golf setup as well.  
SkyTrak has received a lot of recommendations, along with being chosen as one of the best launch monitors in 2019. Within a reasonable budget, this is the best possible launch monitor you can have for your home golf setup. 
SwingSense
We are a one-stop-shop for indoor golf equipment and supplies and a full-service digital marketing and distribution agency offering a wide range of solutions for the golf industry. With innovative data-driven marketing strategies, we help golf related businesses of any size maximize their online earning potential.
Related posts
Advertisement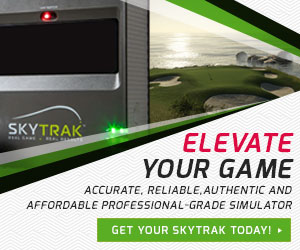 PRACTICE AND PLAY LIKE A PRO!
Imagine having the technology to play golf on your terms, and the insight to take your game to the next level. SkyTrak is a personal launch monitor that delivers instant and real-time 3D shot analysis and ball-flight data.
Learn more
Subscribe Now
* Become a SwingSense Newsletter subscriber to get access to exclusive insider offers, promotions and discounts!