The introduction of GPS technology in golf has radically revolutionized the game. Thanks to these amazing devices, golfers can commit to intricate shots with more confidence, given the ease to measure accurate yardage on the course. The technology has become easier to avail with the golf GPS wearables. As the popularity of smartwatches grew over the last few years, golf technology has kept up with the dramatic change and subsequently, come up with golf GPS watches.
Now, you can simply slap one of these swanky devices onto your wrist and go about swinging around the course. Not just the yardage, these GPS watches can offer you a host of amazing features beyond the golf course as well. They are stylish, effective, and most importantly, helpful. However, there are simply too many to choose from. So, if you are also thinking of buying a golf GPS watch, here is a quick guide to the best golf GPS watches of 2021. 
Garmin Approach S62 Premium GPS Golf Watch
Garmin Approach S62 Premium is undoubtedly the best golf GPS watch available on market today. It is highly recommended by tour pros and reviewers for its incredible shot tracking abilities. Besides, it easily stacks up against any other GPS or laser rangefinder in terms of yardage.
S62 provenly gives you the precise distance to the front, middle, and back of the green, including layups and hazards. It is also equipped with advanced Green View technology that efficiently displays the green layout from the specific angle of approach with its incredible manual pin placement system. Moreover, it includes all the latest features that one could ask for in a cutting-edge golf wearable.
Voice Caddie G1 Golf GPS Watch With Green Undulation And Slope
The premium wearable golf rangefinder is undoubtedly the best item in terms of accuracy and performance in the space of GPS technology. The cutting-edge Green Undulation and Slope technology from Voice Caddie give you an accurate reading on yardage on the course.
Thus, it ensures you hit flawless strokes each time. Moreover, Voice Caddie G1 Golf GPS Watch provides you with all sorts of yardage. Further, with Voice Caddie G1, you can precisely mark your position with the help of its exclusive Quick GPS feature that determines your exact location using advanced GPS technology. 
SkyCaddie LX5 Golf GPS Watch
Another popular golf GPS watch today is SkyCaddie LX5. It is designed with a ceramic bezel that gives the item an edge over other similar products and makes it look fashionable at the same time. Besides, it is also packed with phenomenal technology. The processor allows the SX500 to utilize the Dynamic HoleVue feature that helps reorient the hole position and updates every distance from the tee to the green.
The IntelliGreen feature will help players turn every shot into a perfect scoring opportunity by enabling them to hit more green. Moreover, the Wi-Fi enabled device lets you upload all the information in SkyGolf 360 cloud without a PC.
SwingSense
We are a one-stop-shop for indoor golf equipment and supplies and a full-service digital marketing agency offering a wide range of marketing solutions for the golf industry. With innovative data-driven marketing strategies, we help golf related businesses of any size maximize their online earning potential.
Related posts
Advertisement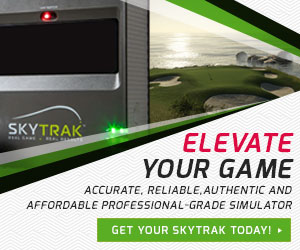 PRACTICE AND PLAY LIKE A PRO!
Imagine having the technology to play golf on your terms, and the insight to take your game to the next level. SkyTrak is a personal launch monitor that delivers instant and real-time 3D shot analysis and ball-flight data.
Learn more
Subscribe Now
* Become a SwingSense Newsletter subscriber to get access to exclusive insider offers, promotions and discounts!