The Black Pocket Golf Launch Monitor PRGR Review
SwingSense, 2 months ago
0
3 min

read
100
Swing Caddie SC200 Plus Golf Launch Monitor delivers the very same metrics as the famed PRGR launch monitor. These include ball speed, carry distance, total distance, smash factor and swing speed, which are easily accessible to users. In addition, it comes with advanced functionality that lets players take swings without even making contact with an actual golf ball. To make the experience more convenient, the SC200 Plus has significant features such as Barometric Pressure Calibration, Voice Distance Output, and Loft Angle Adjustment. You also get the option of three play modes.
The three modes of PRGR launch monitor 
Practice Swing Mode: Calculate your swing pace without contacting a ball.

Practice mode: The Practice Mode shows parameters such as smash factor, shot distance, ball speed and swing speed. In addition, it also shows the factors such as time played and total shot count. Players can select their golf club, place the monitor aside the ball, and swing away with ease. Swing Caddie will register your swing instantly and show that data until your subsequent shot.
Target Mode: In Target Mode, golfers can easily specify the desired distance to evaluate how consistent they are. You can boost or reduce your target range by clicking the buttons or the remote control provided with the product. Simply by locking on the desired distance and choosing a club, one can start. In Target mode, one round consists of ten shots. Swing Caddie will highlight your shot range, smash factor, and swing speed after a shot, evaluate the action and assign a score out of 10.
Exceptional Accuracy: Each club's Swing Speed,  Carry Distance, Ball Speed, Smash Factor and Total Distance are shown utilizing Doppler Radar and sophisticated algorithms

It's simple to use: Golfers can switch it on, place it in position, and start hitting shots immediately

AAA batteries (included) are employed to run the device

There is no requirement for WiFi, or relying on any applications

When you hit another golf ball, the readings immediately recalibrate

It has automatic shutdown to protect the battery

It is suitable for both right-handed and left-handed players

Stores a history of up to 500 previous shots along with their metrics

On practise swings, you may measure your clubhead speed

With batteries, it weighs just 4.4 ounces (less than a typical phone)

PRGR Launch Tracker

Batteries, a secure case, and a training booklet are included
Displays measured data and records on the LCD screen

On/Off, Enter Button: Utilized to toggle the power on and off as well as to choose and confirm device settings

Measuring Section: To take measurements, position this section in the direction you're striking the ball.

Rear Camera Screw: This is used to secure the device to tripods as well as other mountings

Rear battery compartment : Accepts four AAA alkaline/dry-cell batteries (LR03/AAA)

Display of Flight Distance Switch Button: Changes the display mode from Carry to Total flying distance

Mode Button: This button is used to transition between modes

Scroll Button: This button is used to go through data history and equipment configurations.
The Black Pocket is a low-cost, high-accuracy Doppler Radar launch monitor offering hassle-free usage. Take a look at its features above to know more about the product.
SwingSense
We are a one-stop-shop for indoor golf equipment and supplies and a full-service digital marketing and distribution agency offering a wide range of solutions for the golf industry. With innovative data-driven marketing strategies, we help golf related businesses of any size maximize their online earning potential.
Related posts
Advertisement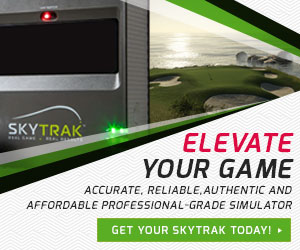 PRACTICE AND PLAY LIKE A PRO!
Imagine having the technology to play golf on your terms, and the insight to take your game to the next level. SkyTrak is a personal launch monitor that delivers instant and real-time 3D shot analysis and ball-flight data.
Learn more
Subscribe Now
* Become a SwingSense Newsletter subscriber to get access to exclusive insider offers, promotions and discounts!