Golf is a deeply personal game. The requirements vary from person to person. As golfers, we are always looking for new ways to improve our game as well as lower our handicaps. With the constant improvement and cutting-edge innovations in the golf industry, this has become more than possible. Every day, one after another new gadget is hitting the market, making it almost impossible to resist buying them. As we are eagerly waiting for the new year, we are also looking forward to some cool golf gadgets for us to grab as well.
But before you invest in any of them, let's take a pause and think about it. Not all of them are worth spending our hard-earned money on. So, which products should you look for? Which ones will be actually helpful for your game improvement? Which investments would get you the best value for money? To answer all your questions, we have compiled a list of the most promising golf products that you should keep an eye on in the coming year. Read on to know more about them.
Arccos Caddie Smart Sensors
One of the hottest launches in 2021, Arccos Caddie Smart Sensors has not piqued much interest yet. However, this stunning technology has immense potential to take your game to the next level. The product consists of powerful sensors that you can attach on top of your clubs, and goes on to record all your swing data, analyze them, and provide you with meaningful data via the dedicated app installed on your smartphone. This could be a very useful tool to show you the areas you are lacking and need to put more effort in. Also, it can give you useful club recommendations.
The unique golf trainer is a must-have for you before the next golf season. Don't get fooled by its simplicity, for it can prove to be the best training aid you will ever have. This amazing tool helps you improve your hold, position, and swing on the course. It is designed with a unique Muscle Memory technology that helps you to adopt better swinging habits.
Garmin Approach S60 Golf GPS Watch
If you don't have a golf watch yet, make sure to gift yourself a Garmin Approach S60 this holiday season. With a stunning design and unbeatable features, it is the best golf watch available on the market today. Besides, Garmin is the most trusted brand when it comes to GPS technology. Therefore, you are bound to experience the best of the bests in terms of performance. The features of this swanky golf watch are a totally different ball game. With this gadget, you can select the pin position manually on the green, play on 41000+ preloaded courses, and detect your position and distance on the greens accurately. Moreover, the impressive design makes you look only cooler.
As you can see, there are plenty of golf gadgets out there for you to choose from. So, choose wisely and get ready for the next big season of golf.
SwingSense
We are a one-stop-shop for indoor golf equipment and supplies and a full-service digital marketing and distribution agency offering a wide range of solutions for the golf industry. With innovative data-driven marketing strategies, we help golf related businesses of any size maximize their online earning potential.
Related posts
Advertisement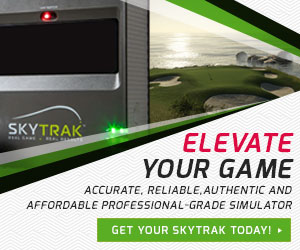 PRACTICE AND PLAY LIKE A PRO!
Imagine having the technology to play golf on your terms, and the insight to take your game to the next level. SkyTrak is a personal launch monitor that delivers instant and real-time 3D shot analysis and ball-flight data.
Learn more
Subscribe Now
* Become a SwingSense Newsletter subscriber to get access to exclusive insider offers, promotions and discounts!