If you ever plan on buying a golf launch monitor, remember that accuracy is the most crucial factor. No matter how portable or easy to use the device is, it should give you the most accurate feedback in real-time. This is why TruGolf's golf simulators have been a massive hit among golfers for a long time now. Both PGA golfers and amateurs recommend TruGolf for their flawless data and advanced technology at an unbelievably affordable price.
Keeping up with their reputation, TruGolf has brought to you some amazing golf simulator ranges that offer professional-level accuracy, namely the Vista and Pro Series. Now, you can easily work on improving your game thanks to flawless, reliable data from these golf simulators. Besides, they ensure that you enjoy the most realistic golfing experience even when you are playing within the four walls of your home or a commercial facility. Here are the highlights of TruGolf golf simulators that make them stand out in the crowd.
The golf launch monitor uses the latest technology from TruGolf with a 3-camera system. The high-speed overhead cameras capture every ball and club data at 3200 FPS to ensure highly accurate feedback. By capturing both ball and club data simultaneously, followed by a complete analysis of player's performance, TruGolf allows users to evaluate their shots under real-world conditions. The unmatched accuracy and the advanced exclusive ball flight engine allow the players to shape their shots just as if they are playing on a real golf course. 
With the unique overhead mount camera design, you can easily mount the TruGolf on the ceiling of your hitting bay. The 3-camera system removes all the tracking devices from the floor and thus makes the hitting bay completely free from all sorts of hardware. This gives the users an unrestricted, smooth indoor golfing experience, making it a perfect choice for both right-handed and left-handed golfers.
TruGolf golf simulators for example: "Trugolf Vista 8" come with all sorts of training tools that you might need for analyzing and improving your game. It measures a wide range of data, including total shot distance, carry, angle of descent, angle of attack, the height of flight, sidespin, backspin, and many more information to give you the most accurate data about your shots.
The TruGolf Vista Series offers you an unmatched combination of hardware and software. The best-in-class HD projection and 4K graphics create the most life-like and vivid indoor golf experience you can ever imagine. Moreover, TruGolf golf simulators come with a minimum 1-year basic subscription to the E6 Connect golf simulator software. With this, you can have access to 27 world-class golf courses, 4 driving ranges, mini-games, putting and chipping areas, online events, as well as a host of practice modes like best ball and stroke play. Besides, it allows you to view your session history and analyze historical data, thus helping you to keep track of your continuous improvement. 
Overall, TruGolf provides golfers both game improvement features and entertainment value. The exclusive design makes it a perfect choice for indoor golf. Paired with incredible software and exciting features, it offers you the best golf simulation experience available today.
SwingSense
We are a one-stop-shop for indoor golf equipment and supplies and a full-service digital marketing and distribution agency offering a wide range of solutions for the golf industry. With innovative data-driven marketing strategies, we help golf related businesses of any size maximize their online earning potential.
Related posts
Advertisement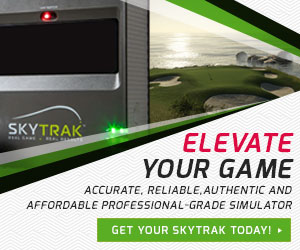 PRACTICE AND PLAY LIKE A PRO!
Imagine having the technology to play golf on your terms, and the insight to take your game to the next level. SkyTrak is a personal launch monitor that delivers instant and real-time 3D shot analysis and ball-flight data.
Learn more
Subscribe Now
* Become a SwingSense Newsletter subscriber to get access to exclusive insider offers, promotions and discounts!