Uneekor QED and Uneekor EyeXO Launch Monitor
SwingSense, 3 years ago
0
3 min

read
1727
Launch monitors are slowly becoming the future of golf, allowing people to play golf anywhere and anytime.
For those who wish to improve their game, launch monitors are a lucrative purchase.Launch monitors are not necessarily used indoors, they can be used outdoors for your golfing too.
With the data statistics and parameters, they provide, you can lead out of the ordinary and emerge as a true champion.
While there are many low-end launch monitors that offer basic features, sometimes one needs a launch monitor that can offer better and reliable features. This is where Uneekor QED and Uneekor EyeXO come in.
Uneekor QED and Uneekor EyeXO, two different models, were introduced by a Korean based company, quickly gaining popularity due to their efficient and convenient ease of use, particularly for home users.
At a reasonable price, it offers features that go beyond conventional competition, making it an ideal setup if you are looking at building a permanent fixture in your home dedicated to golfing.
What features do Uneekor QED and EyeXO provide?
Uneekor QED and Uneekor EyeXO launch monitors offer the following features:
Photometric technology
Ceiling mounted hi-speed camera performance
Competitive price offering a multitude of features
Ability to golf without any special balls (EyeXO only)
Accurate provides accurate club and ball data
OPTIX Technology that provides consistent results
Slow-motion videos of your shots
Undefeatable features and accuracy for the price range
Auto-detection for right-hand and left-hand golfers
Real-time measurement of data parameters
Seamless and easy installation
Compatible with popular golf simulation software such as TGC 2019
Uneekor QED and Uneekor EyeXO may be two different models but they both provide reliable and accurate results, competing with other high-end launch monitors. The only major difference in them is a few data parameters.
Whether you are a casual golfer looking for some fun with your loved ones or a professional golfer or coach aiming to improve their game, both of these launch monitors would provide a great experience.
What data points it measures?
Uneekor QED and Uneekor EyeXO can measure the following data points, with EyeXO further enhancing the data:
Carry Distance
Total Distance
Flight Time
Distance to Apex
Land Angle
Side Spin
Ball Speed
Smash Factor
Club Speed
Club Face Angle
Launch Angle
Club Face to Path
How well it works with Golf Simulation softwares?
Uneekor QED and Uneekor EyeXO work seamlessly with several popular golfing software including The Golf Club 2019, allowing access to over 100,000 unique courses while allowing users to create their own.
At the same time, it can be integrated with TrueGolf E6 Connect to allow a complete synchronization of its hardware and software for further gameplay and entertainment.
For their mid-end price, the Uneekor QED and Uneekor EyeXO both offer features that leap over the features offered by other launch monitors like SkyTrak, improving ignorantly while adding newer benefits.
While Uneekor QED can perform exceptionally for most users, users that wish to enjoy HD slow-motion recording and additional data parameters for enhanced gameplay can opt to buy the EyeXO model.
Happy Golfing!
SwingSense
We are a one-stop-shop for indoor golf equipment and supplies and a full-service digital marketing and distribution agency offering a wide range of solutions for the golf industry. With innovative data-driven marketing strategies, we help golf related businesses of any size maximize their online earning potential.
Related posts
Advertisement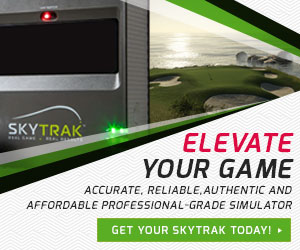 PRACTICE AND PLAY LIKE A PRO!
Imagine having the technology to play golf on your terms, and the insight to take your game to the next level. SkyTrak is a personal launch monitor that delivers instant and real-time 3D shot analysis and ball-flight data.
Learn more
Subscribe Now
* Become a SwingSense Newsletter subscriber to get access to exclusive insider offers, promotions and discounts!