One of the leading golf launch monitor brands, Uneekor is a widely popular and trusted golf gadget in today's golf market. It brings out the best in every golfer with its innovative technology. Uneekor launch monitors are particularly loved for their unmatched accuracy, a new level of speed, and consistency with the all-access OPTIX feature.
The Ball OPTIX features give you a clear understanding of the ball spin so that you can consistently land the ball where you originally intended. Plus, you can see the actual spin on every shot. The Club OPTIX, on the other hand, enables you to achieve regularity with your club. Learn to hit the ball on the sweet spot every time with your club and see the video of what your club does at the impact in real-time to dial in the club consistently.
Uneekor offers two premium golf launch monitors, namely Uneekor QED and Uneekor Eye XO. Both launch monitors add great capabilities to your skills without any complexity. Besides, they facilitate an unprecedented leap in real-time accessibility to the actual club path movement and ball spin. Moreover, with the phenomenal features, the launch monitors help you achieve optimal performance and precision in every aspect of your game. They also feature a remarkable chip that delivers accurate and consistent speed and fundamental data readability.
Both QED and EYE XO are great choices for comprehensive game improvement. However, to help you choose, here is a brief comparison between the two launch monitors.
The Uneekor QED is essentially an overhead launch monitor that is known for its lightning-fast response and pinpoints accuracy. It is powered with a dual high-speed camera-based technology. Besides, it leverages Uneekor's patented Ball & Club OPTIX technology that provides instant ball spin and club path replay, thanks to the unique Ignite software. It also features Swing Video Analysis that can capture, playback, and analyze your swings via your PC's built-in camera itself.
Minimum space requirement for QED: 13'Wx 9'-10.5'Hx 10'-12' D (3.5' QED to hitting zone)
Required PC Specs: Intel i5 8400/ AMD 3rd Gen Ryzen or higher, Windows 10 (64 bit) V1803 or higher, 8GB RAM, GeForce GTX 1060.
While QED offers excellent support for your game improvement, EYE XO is designed for those who demand nothing but the best. This overhead launch monitor comprises all the innovative technologies and features that QED has. Moreover, it features Uneekor's patented non-marked ball technology driven by View Software that allows you to capture the full range of ball and club precision data with any ball of your choice, even real golf balls. It also gives you free access to the PowerU Cloud so that you can store all your data, images, video recordings, and much more. Furthermore, you get an amazing Practice Driving Range with EYE XO where you can see your ball and club data, ball path, shot history, and so much more.
EYE XO Space Requirement: 13'W x 9-10.5' H x 10'-12'D (3.5' EYE XO to hitting zone)
Required PC Specs: Intel i5 8400/ AMD 3rd Gen Ryzen or higher, Windows 10 (64 bit) V1803 or higher, 8GB RAM, GeForce GTX 1060.
SwingSense
We are a one-stop-shop for indoor golf equipment and supplies and a full-service digital marketing and distribution agency offering a wide range of solutions for the golf industry. With innovative data-driven marketing strategies, we help golf related businesses of any size maximize their online earning potential.
Related posts
Advertisement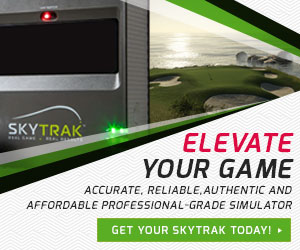 PRACTICE AND PLAY LIKE A PRO!
Imagine having the technology to play golf on your terms, and the insight to take your game to the next level. SkyTrak is a personal launch monitor that delivers instant and real-time 3D shot analysis and ball-flight data.
Learn more
Subscribe Now
* Become a SwingSense Newsletter subscriber to get access to exclusive insider offers, promotions and discounts!