TrackMan 4 vs Foresight Sports' GCQuad: Golf Launch Monitor Comparison
SwingSense, 11 months ago
0
3 min

read
1235
In the last couple of years, Trackman has almost become a household name among golfers around the world. When it comes to high-end performance, in-depth data analysis, and tip-of-the-line accuracy, there are only a few launch monitor brands that can stack up against Trackman products. Especially with the latest update, Trackman 4, the brand has hit its home. On the other hand, Foresight Sports is also one of the most reputable and trusted names in the golf industry. Known for the cutting-edge technology, the brand could give most premium golf launch monitors a run for their money. Its premium launch monitor, Foresight Sports' GCQuad, is easily one of the top-rated launch monitors today. 
But the question remains — Foresight Sports' GCQuad or TrackMan 4? Which launch monitor gives more value for money? To help you with the task, we have brought you a head-to-head comparison between these two leading launch monitor brands. Go through the features and pick the one that best suits your requirements. 
GCQuad vs TrackMan 4: Technology
TrackMan 4 uses Doppler Radar technology to capture your ball flights. It measures a host of ball and club data including club speed, ball flight, carry distance, launch angle, and many more to give you a comprehensive detail on all your shot with a high level of accuracy.
GCQuad, on the other hand, uses Foresight Sports' proprietary Quadroscopic Camera Technology. The imaging technique has a large ball capture area and delivers a high-quality image resulting in highly accurate data. In terms of accuracy, however, both launch monitors are at par. They produce remarkably comparable results in data sets and tracking capabilities as well. 
Both GCQuad and TrackMan 4 provide a wide range of data points. However, TrackMan 4 compiles more accurate and comprehensive ball flight data because it captures the full ball flight. Therefore, it is more popular among golfers. 
Trackman 4, like any other TrackMan product, requires more space. GCQuad, on the other hand, takes up significantly less space. So, if you are looking for a launch monitor to build your indoor golf setup, GCQuad would be more appropriate for you.
GCQuad has an in-built display that shows data and measurements in real-time. For TrackMan 4, you will have to pair it with your tab/smartphone to see your data. 
GCQuad comes with Foresight Sports' proprietary FSX Pro software. It is simple but effective. It is an exceptional performance insight tool that supports 3D visuals, gap tests, and data set filtering.
TrackMan 4 features TrackMan Go, which is highly appreciated by golfers. It gives you full access to data points, full swing, and putting data. It also comes with Tracy, the stunning AI game tra8iner that uses a huge database of 500 million shots to help in your game improvement. 
Both GCQuad and TrackMan 4 are great choices if you are thinking of game improvement. While TrackMan 4 is more preferred by pro golfers for its full ball flight tracking, it also costs around 45% more than GCQuad. If you don't want to spend the extra bucks, you can always settle for GCQuad. 
SwingSense
We are a one-stop-shop for indoor golf equipment and supplies and a full-service digital marketing and distribution agency offering a wide range of solutions for the golf industry. With innovative data-driven marketing strategies, we help golf related businesses of any size maximize their online earning potential.
Related posts
Advertisement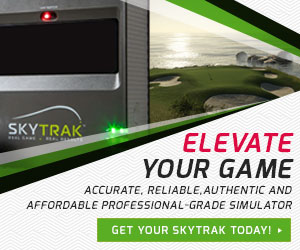 PRACTICE AND PLAY LIKE A PRO!
Imagine having the technology to play golf on your terms, and the insight to take your game to the next level. SkyTrak is a personal launch monitor that delivers instant and real-time 3D shot analysis and ball-flight data.
Learn more
Subscribe Now
* Become a SwingSense Newsletter subscriber to get access to exclusive insider offers, promotions and discounts!