Are you one of those who simply lives, breaths, and dreams for golf? Is it your biggest desire to play golf day and night, rain or shine? But it is hard for you to find time to visit a driving range several times a week? Then your best bet is to get a golf simulator for yourself. The wonder of innovative technology, golf simulators can bring world-renowned golf courses right inside your home. Most importantly, you can play on coveted golf courses from across the world which you might never be able to visit in your life otherwise. Furthermore, the golf simulator technology has reached such a height that it brings you the most authentic true-to-life feel of a golf course. Besides, there is more to golf simulators beyond the entertainment value. It could be instrumental in your game improvement thanks to the chock-full of game analysis it provides.  
The advantages of having a golf simulator are practically endless. No wonder it has become the most popular golf gadget in the last few years. However, as a first-time buyer, you might have a thousand questions. And you are right to ask them all, for you should spend your hard-earned money carefully while making such an expensive purchase. To help you with the task, we have compiled a buyer's guide. Read this buyer's guide to know more about the aspects you must consider before investing in a golf simulator. 
How Much Space Do You Need To Set Up A Golf Simulator?
There are two philosophies when it comes to accommodating a golf simulator. Either you can decide what type of a simulator you want and make arrangements accordingly. Once you decide on the model, you can use its required dimension to check whether you have the necessary space. Or you can measure the space you have and try to find a golf simulator that fits into it. Usually, 10' L X 10' W X 9' H is more than sufficient for most standard golf simulators.  
What Are the Things You Need To Set Up A Golf Simulator?
What Should You Look For In A Golf Simulator?
While the primary objective of having a golf simulator is to enjoy a realistic golf experience at home, it is also crucial to check for its game improvement features. To this end, you must consider the following criteria before finalizing your system. 
Accuracy 

Precision 

Variety of Ball and Club Data 

Compatibility with Golf Simulator Software 

Display 

Simulation Quality 
 Last but not the least, you should finalize a budget before you decide on the system. Several brands are now offering high-end golf simulators at different prices. Subsequently, the quality and performance may differ based on their budget. However, it is possible to get premium quality even at affordable prices. So, go right ahead and bring home the golf simulator that fits your requirements.  
SwingSense
We are a one-stop-shop for indoor golf equipment and supplies and a full-service digital marketing and distribution agency offering a wide range of solutions for the golf industry. With innovative data-driven marketing strategies, we help golf related businesses of any size maximize their online earning potential.
Related posts
Advertisement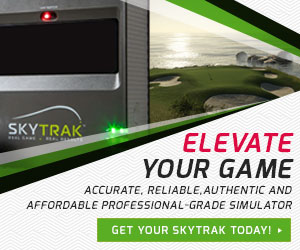 PRACTICE AND PLAY LIKE A PRO!
Imagine having the technology to play golf on your terms, and the insight to take your game to the next level. SkyTrak is a personal launch monitor that delivers instant and real-time 3D shot analysis and ball-flight data.
Learn more
Subscribe Now
* Become a SwingSense Newsletter subscriber to get access to exclusive insider offers, promotions and discounts!