As golf technology has improved over the last few years, golf training gadgets have also become more accessible and widely available for golfers all over the world. Now you can take full advantage of cutting-edge launch monitors, advanced golf simulation software, and many more devices to better your skills. Among all the latest golf gadgets, golf rangefinders have become a widely popular training tool. Rangefinders help you eliminate the guesswork from the task and give you accurate measurements so that you can master the shot every time you hit the ball.  
At this point, the market is overflown with hundreds of golf rangefinders. However, not all of them can offer you top-of-the-line accuracy or ease of use. In that case, Blue Tees Golf Rangefinders could be your ideal choice. In today's market, Blue Tees Golf Rangefinders is one of the most reputed brands when it comes to golf technology. It uses advanced laser technology to give you immaculate accuracy at the most affordable price. Besides, they offer an array of golf rangefinders to choose from.  
Blue Tees Series 2 Tour Golf Laser Rangefinder
If you want a no-frill gadget that gets the job done perfectly, then Blue Tees Series 2 is the right choice for you. Powered with Blue Tees' trusted laser technology, this incredible rangefinder helps you precisely dial in the distance.
It uses EZ Optic Focus technology to give you precise measurements and features a high-contrast, full-HD display for the best-in-class image quality. It is also a great device that enables you to choose the right club for your shots. Above all, Blue Tees Series 2 is best known for its compact design, high-end performance, and ease of use. Pick this item for the most life-like golf experience.  
Blue Tees Series 2 Pro Slope Golf Laser Rangefinders
Blue Tees Series 2 Pro Slope is perhaps the most popular item in Blue Tees' range of laser rangefinders. It features the latest laser technology that is used by the military. As a result, the device meticulously measures any distance on the course.
The highlight of this rangefinder is the cutting-edge Pro Slope technology, which gives you an advantage while making the club selection by adjusting the distance based on incline/ decline for True Distance. The model also has the innovative Flag Lock+ Pulse feature that helps you to precisely lock in your target and ensures pinpoint accuracy (up to 800 yards).  
Blue Tees Series 3 Max Golf Laser Rangefinder
This is the most advanced rangefinder in Blue Tees's collection. It allows you to dial in the distance to the back, front, and middle of the green, helps in club selection, and meticulously identifies the target for you. Beyond accurately measuring the yardage, however, this model features loads of exciting features that make your practice session more fun.
It features an advanced Active Slope Switch technology that allows you to easily toggle between different slope functions. Besides, Series 3 Max comes in a weather-proof case so that you can take it everywhere you go.  Evidently, Blue Tees Rangefinders can help improve your game with their incredible features. So, choose the one that best suits your needs and get started today.  
SwingSense
We are a one-stop-shop for indoor golf equipment and supplies and a full-service digital marketing and distribution agency offering a wide range of solutions for the golf industry. With innovative data-driven marketing strategies, we help golf related businesses of any size maximize their online earning potential.
Related posts
Advertisement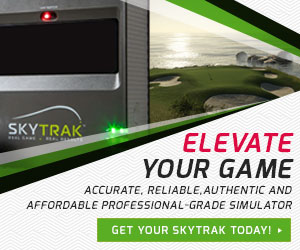 PRACTICE AND PLAY LIKE A PRO!
Imagine having the technology to play golf on your terms, and the insight to take your game to the next level. SkyTrak is a personal launch monitor that delivers instant and real-time 3D shot analysis and ball-flight data.
Learn more
Subscribe Now
* Become a SwingSense Newsletter subscriber to get access to exclusive insider offers, promotions and discounts!