Choose the Right Carttek Caddy for your Needs
SwingSense, 7 days ago
0
3 min

read
54
An electronic golf caddy is one of the most important possessions one can have, and it is gradually gaining acceptance among golfers all over the globe. Players with different performance trajectories and degrees of competence rely on them to make transferring equipment simple.

Carttek is among the most well-known computerized caddy manufacturers currently. Buyers have a vast choice of options to pick out of, and all of them may be easily tailored with the correct parts. With its high-quality products, the firm has solidified its position as the sector champion in the electric caddy market. Here are some reviews of some of the many caddies that Carttek offers.
CartTek has unveiled the improved GRi-1500Li L2 in response to the demand for the first remote-controlled Lithium golf caddy, the GRi-1500Li. As part of this improvement, the ground-breaking Slope Control, Active Steer Assist feature was included to make the system simpler to use. Modern electronics may be used to direct the vehicle back to its starting place if it somehow deviates from its intended path.
A lithium-ion battery having a capacity of 10 Ah and 24 V

24 pounds + 3.5 pounds

Folded dimensions are 25.5″ x 31″ x 11″ There are four distinct speeds.

a descending feature that slows down

Grade 6061 aluminium alloy is used in aircraft building.

two strong motors

You may vary the handle length from 37.5″ to 46″.

Open-wheel style

Watertight building

An innovative anti-tip wheel
The benefits of the Carttek GRi-1500Li LTD model have greatly increased thanks to the modifications made to the product. For further protection, the leather bag rests on the cart's steel knobs may be secured. Despite its powerful engines and small size, the caddy structure weighs just 21.6 pounds. The majority of players will like how portable the caddy is now that the engines have been updated and made smaller.
a lithium-ion battery with a 24 V and 10 Ah capacity an aluminium alloy (grade 6061) used in the manufacture of aircraft

two strong motors

Total weight of 21.6 pounds, 3.5 ounces; handle length is adjustable from 37.5″ to 46″

Folded dimensions are 25.5″ x 31″ x 11″, and there are 4 speed levels.

descending at a lowered speed

a water-resistant style

Innovative anti-tip wheel
The GRi-975Li is another option that most golfers might consider. This model is one of the smallest and lightest golf carts available right now, a very reliable choice from the manufacturer. It's a unique approach to the game with promise on the greens.
7.5 amp-hour, 24 volt, lithium-ion battery

Weight in total: 21.6 lbs + 3 pounds

Four varying speeds

Grade 6061 aluminium alloy is used in aircraft building.

a descending feature that slows down

two strong motors  

Dimensions when folded: 34″ x 26.5″ x 12.35″ Watertight-rated deflection wheel with anti-tipping characteristics Height-adjustable from a normal 45″ to a more compact 36″
With all of its accessories including the power wire, the Galaxy Titan weighs just 16 pounds. The Galaxy Titan is now one of the most cutting-edge and portable options in its category. The structure of this caddy is composed of polished titanium, giving it strength and durability.
24-volt, 7.5-amp-hour lithium-ion battery

a titanium framework

two strong motors

The grip's length may be easily changed from 36″ to 45″.

Weight in total: 9 and 3.5 ounces

Four varying speeds

Folded, the item measures 36 by 26 by 12 inches.

system of all-wheel drive

On downhill slopes, there is a slowing element.

Waterproof
Refer to the information above for in-depth assessments of the listed Carttek electric golf caddies.
SwingSense
We are a one-stop-shop for indoor golf equipment and supplies and a full-service digital marketing and distribution agency offering a wide range of solutions for the golf industry. With innovative data-driven marketing strategies, we help golf related businesses of any size maximize their online earning potential.
Related posts
Advertisement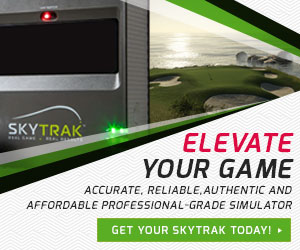 PRACTICE AND PLAY LIKE A PRO!
Imagine having the technology to play golf on your terms, and the insight to take your game to the next level. SkyTrak is a personal launch monitor that delivers instant and real-time 3D shot analysis and ball-flight data.
Learn more
Subscribe Now
* Become a SwingSense Newsletter subscriber to get access to exclusive insider offers, promotions and discounts!