Improve your Golfing Performance with the KIT from Full Swing
SwingSense, 2 weeks ago
0
3 min

read
66
For golfers with expert or average ability levels, the Full Swing KIT Launch Monitor is often seen as a luxurious option. Its incredibly sophisticated features make this feasible. You may anticipate it to have unmatched processing power, a variety of very useful features, and unwavering precision, to mention a few. It is equipped with the most advanced golf radar technology currently available, and measurements are delivered for a maximum of sixteen pieces of data. Potential buyers can put a lot of faith in the high-resolution camera for taking a vivid view on each snap.
A USB C-type charging block, a protective travel case, a charging lead, and the Full Swing KIT launch monitor are all included in the packages. See the information below for further insight:
Why opt for the Full Swing Kit?
The KIT launch monitor has Improved Radar, a potent radar technology. It makes it possible for consumers to quickly and simply get measurements that are extremely precise without needing to do a great deal of work.
Golfers may watch old swing films to study every aspect of their game carefully. The display contains a camera with a 4K resolution and can produce full HD pictures at a 1080p resolution. The whole potential of data is available to golfers.
It is obvious that the equipment was made with mobility in consideration of how easy it is to bring to one's practice location.
With the aid of its sensor and multimedia processing elements, golfers may make smarter selections by receiving rapid and precise data inputs.
It is a product with a unique HUD that allows users to see critical parameters in vivid, colorful detail.
Metered Statistics The Full Swing KIT's use (Ball and Club)
Face angle Attack angle Spin rate

Spin Axis

Launch Angle

Smash Factor  Horizontal Angle  Apex Height Face to Path

Club Speed

Total Distance

Total Distance (Side)

Carry Distance (Side)

Club Path

Ball Speed

Carry Distance 
KIT LaunchMonitor - The Key Features
You can play indoor golf with the help of the E6 Connect software on more than around 100 courses and training areas. A membership is required to unlock a few mini-games that are also accessible.
Users may quickly and effortlessly evaluate their performance's statistics, distribution graphs, and patterns. This is a very useful way to monitor one's long term development throughout time.
Your measurements and performance-related information are preserved in the online account, which is another advantage. You may browse all the data from previous games, capture video of the strokes you want to go over yet again, and get a sense of the equipment you now possess.
Bluetooth 5.0 (BR/LE/EDR) tracking with patented 24GHz ML-enhanced radar

dependable and water-repellent travel bag

802.11a, b, g, n 

Ac Wi-fi connectivity

Built-in Li-ion 8000mAh battery with a 5-hour runtime

5.3″ OLED screen

16.7 million colors

A9 dual-core processor

60 frames per second

Full HD camera
For a thorough grasp of what to expect from the KIT Launch Monitor by Full Swing, see the information given above.
SwingSense
We are a one-stop-shop for indoor golf equipment and supplies and a full-service digital marketing and distribution agency offering a wide range of solutions for the golf industry. With innovative data-driven marketing strategies, we help golf related businesses of any size maximize their online earning potential.
Related posts
Advertisement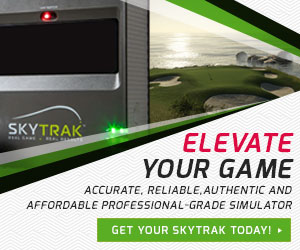 PRACTICE AND PLAY LIKE A PRO!
Imagine having the technology to play golf on your terms, and the insight to take your game to the next level. SkyTrak is a personal launch monitor that delivers instant and real-time 3D shot analysis and ball-flight data.
Learn more
Subscribe Now
* Become a SwingSense Newsletter subscriber to get access to exclusive insider offers, promotions and discounts!