TrackMan 4 Golf Launch Monitor Review: The Gold Standard Of Golf Technology
SwingSense, 2 years ago
0
3 min

read
1228
With the constant improvement and innovations in the space of golf technology, today's market is overflown with hundreds of launch monitors. Therefore, it is quite normal for any golfer to have second thoughts while choosing a launch monitor for personal use. Not only will the quality of the device be a major factor in your simulated golf experience, but it can also significantly affect your skills. Considering the importance of a launch monitor in your game improvement, TrackMan 4 golf launch monitor is strongly recommended for golfers of all skill and experience levels.
TrackMan is already a renowned name when it comes to advanced technology. Naturally, any product from the golf tech giant has to be a popular choice. However, the TrackMan 4 is a particularly well-made product that has been in the making for over three years. Compared to the previous TrackMan offerings, this one is considered the most accurate and powerful launch monitor to date. Here is a detailed review of TrackMan 4 Golf Launch Monitor to let you know more about the incredible launch monitor. 
What makes TrackMan stand apart from the crowd is its unique technology. Keeping up with the reputation, TrackMan 4 is built with a cutting-edge dual radar system that guarantees the highest level of accuracy. It helps capture more data than ever, ensuring an increased pick-up rate and accurate impact points to give you flawless readings of all your shots. One of the high-frequency radars tracks the ball from launch to landing, while the other measures all the necessary parameters, from spin rate and launch angle to ball curvature, so that you have everything to improve your game. 
A Choc-Full Of Data Points
Thanks to the dual radar technology, TrackMan 4 gives you a host of data points that no other golf can give you with such precision. The device tracks the entire ball flight, from impact to landing, tracking every movement of the ball. Subsequently, it offers you every detail of your shot.
You can expect up to 26 data points from the launch monitor, including club speed, ball speed, smash factor, launch angle, dynamic loft, face angle, club path, swing direction, attack angle, spin rate, and spin loft. It maps the trajectory in three dimensions in real-time as well. As such, it provides all the necessary parameters you would need to improve your shots, lower your score, and have the best experience on the course. 
Apart from the advanced technology and amazing data points, TrackMan 4 also offers a host of incredible features that makes your golf experience the best of the best. Thanks to its compact design, it is incredibly lightweight and easy to use. It can connect with up to six external cameras and give you feedback from multiple angles.
The display gives you the full trajectory of all your clubs. The launch monitor also features automatic leveling and comes with built-in wi-fi. Besides, it comes with a dedicated TrackMan app that can integrate video playback and screencast. Overall, TrackMan 4 is considered the crème de la crème of launch monitors. If you are looking for a premium device with advanced features and professional-level performance, it is the ultimate choice for you. 
SwingSense
We are a one-stop-shop for indoor golf equipment and supplies and a full-service digital marketing and distribution agency offering a wide range of solutions for the golf industry. With innovative data-driven marketing strategies, we help golf related businesses of any size maximize their online earning potential.
Related posts
Advertisement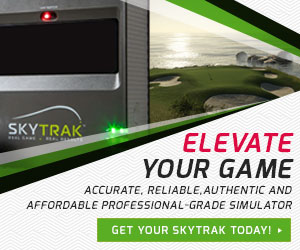 PRACTICE AND PLAY LIKE A PRO!
Imagine having the technology to play golf on your terms, and the insight to take your game to the next level. SkyTrak is a personal launch monitor that delivers instant and real-time 3D shot analysis and ball-flight data.
Learn more
Subscribe Now
* Become a SwingSense Newsletter subscriber to get access to exclusive insider offers, promotions and discounts!