With the constant innovation in the space of golf technology, golf launch monitors have come a long way from where they started. Today, the features and performance these incredible gadgets offer are nothing short of jaw-dropping. They come with a host of data points, real-time shot tracking, and so much more that helps you hone your skills like never before. 
In recent times, the market is overflown with professional-level, high-end golf launch monitors that can help identify your drawbacks and tell you exactly where to put more effort in. However, to have this professional-level support, you don't need to blow your bank balance anymore. Thanks to PRGR Black Pocket Golf Launch Monitor, you can now get all these advantages at a surprisingly pocket-friendly price. Moreover, it offers some unique features that you can hardly get in any other launch monitor within this price range. Read on to learn more about this amazing product and choose the best training gadget for your golf practice. 
In terms of accuracy, PRGR Black Pocket Golf Launch Monitor can easily stack up against any other professional-level golf launch monitor. It gives you flawless data on distance, ball speed, clubhead speed, carry distance, smash factor, and swing speed for all your shots. Moreover, it performs equally well in both indoor and outdoor settings. 
The best thing about PRGR Black Pocket Golf Launch Monitor is its sleek design. As the name suggests, it easily fits in your pocket. Highly portable, lightweight, and easy to use—this launch monitor is the perfect choice for any golfer, especially beginners. All you need to do is turn it on, place the launch monitor a few feet behind the tee, and you are good to go. 
In addition to its usual functions, the launch monitor also comes with five simple buttons. They let you choose the playing modes and help make the right club selections. However, you can use the launch monitor without operating these buttons as well. 
PRGR Black Pocket Golf Launch Monitor uses Doppler radar technology to track and measure your shots. It is programmed with precise algorithms that flawlessly measure your total distance, carry distance, swing speed, ball speed, and smash factor, before giving you an accurate reading. Besides, it gives you instant feedback on your shots including the quality of ball striking, making it almost an indispensable training gadget. 
In terms of connectivity, PRGR Black Pocket Golf Launch Monitor offers you a smooth experience all around. You don't need a wi-fi connection or Bluetooth to set the unit up. You don't even need a separate device like smartphones or tablets, not even an app to use this launch monitor. Just make sure the batteries are fully charged and you are ready to go. What's more, the device has an automatic shutoff feature that turns it off if it is sitting idle for some time, and saves power. 
Considering the performance and the features of the PRGR Black Pocket Golf Launch Monitor, it is a bargain for any golfer. So, don't think anymore. Go for the best. 
SwingSense
We are a one-stop-shop for indoor golf equipment and supplies and a full-service digital marketing and distribution agency offering a wide range of solutions for the golf industry. With innovative data-driven marketing strategies, we help golf related businesses of any size maximize their online earning potential.
Related posts
Advertisement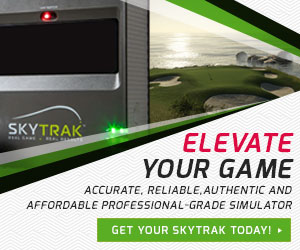 PRACTICE AND PLAY LIKE A PRO!
Imagine having the technology to play golf on your terms, and the insight to take your game to the next level. SkyTrak is a personal launch monitor that delivers instant and real-time 3D shot analysis and ball-flight data.
Learn more
Subscribe Now
* Become a SwingSense Newsletter subscriber to get access to exclusive insider offers, promotions and discounts!