The Evolution Of Indoor Golf: How Simulated Golf Became The Most Popular Recreation
SwingSense, 9 months ago
0
3 min

read
268
"Golf is an exercise which is much Used by a gentleman in Scotland" — Dr. Benjamin Rush (1745-1813).  
One of the most popular sports today, golf has its origin in Scotland. It has its roots in a medieval game played on the eastern coast of Scotland, near the Royal Capital of Edinburgh. Those early players would hit a pebble over sand dunes using a bent stick or a club.  
From pebbles and clubs, however, the game of golf has come a long way. Simultaneously, the infrastructure and amenities associated with the sport grew to unprecedented heights. But the pinnacle of the evolution was brought forward by the advancement of golf technology. So much so that it has now brought the game inside our home. The rising popularity of indoor golf is proof of how golf technology has made golf more accessible to the public. And the major credit for this feat goes to golf simulators.  
It was a long road from playing with pebbles to enjoying the true-to-life authenticity of a golf course right within the four walls of your house. However, none of this was achieved in a day. The evolution of indoor golf simulators is no less interesting than the game itself. So, let's take a look at the evolution of indoor golf and see how golf simulator technology evolved over the years.  
The First-Ever Golf Simulators
The first golf simulator was introduced around the 1970s. Originally, the idea was developed by placing sensors on different points of the hitting nets. This gave the players an idea as to where the ball flew and in turn, how to control it. However, it was impossible to gauge the accuracy or distance with precision or reliability.  
The Subsequent Advancement
From the early sensors to fully fabricated indoor driving range, the technology has since come a long way where golfers can play indoor golf with a golf simulator as if they are playing on a real golf course. It is made possible in the early stages using infrared technology to track the golf balls. The advancement allowed us to predict the exact XY coordinate of the landing spot with pinpoint accuracy.  
Over time, updated technologies such as stereoscopic cameras and Doppler radar were introduced to golf simulators. With these, contemporary simulators can not only track a variety of shots but also measure a host of ball and club data, including ball spin, club path, ball spin, point of impact, axis, and ball trajectory.  
With the advancements of ball-tracking technology, today golfers can play a full round of golf right at home. Incorporating various software like TGC 2019, golf simulators now allow you to even play world-renowned golf courses indoors.  
One of the major drawbacks of golf simulators has been short games. However, even this issue has been successfully eliminated these days. Besides, many golf simulators now use various types of sensor mats that mimic a variety of putting greens.  
The biggest advantage of golf simulators is that it allows you to play golf right at home without missing the thrill of the golf course. So, bring home a golf simulator and continue enjoying your favorite sport anywhere, anytime.  
SwingSense
We are a one-stop-shop for indoor golf equipment and supplies and a full-service digital marketing and distribution agency offering a wide range of solutions for the golf industry. With innovative data-driven marketing strategies, we help golf related businesses of any size maximize their online earning potential.
Related posts
Advertisement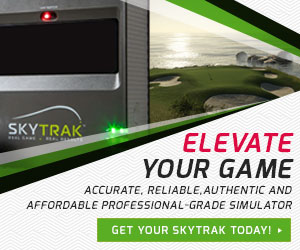 PRACTICE AND PLAY LIKE A PRO!
Imagine having the technology to play golf on your terms, and the insight to take your game to the next level. SkyTrak is a personal launch monitor that delivers instant and real-time 3D shot analysis and ball-flight data.
Learn more
Subscribe Now
* Become a SwingSense Newsletter subscriber to get access to exclusive insider offers, promotions and discounts!