For a golf enthusiast, there is nothing better than spending as much time as possible playing the game. But, at the same time, it is highly unlikely that all of us have the time or opportunity to drive down the golf course every day of the week. An indoor golf studio, for this purpose, is more suitable nonetheless, and owning a golf simulator can help you immensely to get the realistic feel of the course within the four walls of your house. Moreover, if you are one of those people who is obsessed with perfecting your skills, then a golf simulator is a must-have for your indoor golf setup.
However, if you are worried that this setup will take up massive space in your house, fret not! With the advanced golf gear and gadgets available today, you can always use your indoor golf studio as a multipurpose room, but most likely, a media room. If you are confused right now, let us help you to grasp the idea—with a golf simulator, you can turn your indoor golf system into an entertainment zone for the whole family. There are a lot of things you can do with a golf simulator. Here are some ideas to help you get started to turn your indoor golf setup into a fun zone for the whole family.
A Game Room For The Family
With digital technology constantly evolving and improving, golf simulators now offer way more than golf. While the golf simulators offer you a host of world-class golf courses to play indoor golf and help practice your shots, they nowadays come with several other virtual sports and games options that your family and friends can take part in together. 
Thanks to the high-end image quality and advanced software embedded in the golf simulators, you can enjoy incredible picture quality and a host of other sports, including soccer, baseball, softball, hockey, basketball, lacrosse, and various other popular sports.
A Multipurpose Media Room
If your family members are not particularly keen on sports, you can always sell the idea of a personal media room. There is no more perfect way to spend the weekend night with your family than watching a movie on a giant screen within the comfort of your home. With a golf simulator, HD screen, and AV installation, the room can accommodate a variety of media sources and serve as a home theatre.
Choose an overhead projector and a retractable/ adjustable simulator screen and you are good to create a media room. Moreover, with the latest high-end and immersive technology, your golf simulator can also support video games, stream videos for yoga, meditation, aerobics, Zumba, palates and so much more. 
Sounds exciting? Go ahead and make the room more interesting by adding a minibar or just a refrigerator in the corner and throw in some recliners or bean bags. All that is left to do is inviting your friends over or gathering your family in the room to have a gala time together!
SwingSense
We are a one-stop-shop for indoor golf equipment and supplies and a full-service digital marketing agency offering a wide range of marketing solutions for the golf industry. With innovative data-driven marketing strategies, we help golf related businesses of any size maximize their online earning potential.
Related posts
Advertisement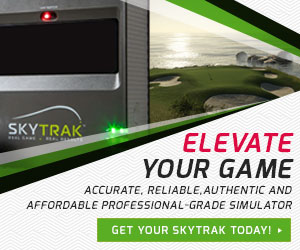 PRACTICE AND PLAY LIKE A PRO!
Imagine having the technology to play golf on your terms, and the insight to take your game to the next level. SkyTrak is a personal launch monitor that delivers instant and real-time 3D shot analysis and ball-flight data.
Learn more
Subscribe Now
* Become a SwingSense Newsletter subscriber to get access to exclusive insider offers, promotions and discounts!