Golf is one of the most popular recreational sports in the world. So, leveraging the popularity of the sport can be an effective method to generate more revenue from your business. Since indoor golf has become immensely enjoyed by golf enthusiasts, installing an indoor golf studio is likely to attract more customers to your establishment. And the easiest way to make it interesting is to set up an indoor golf simulator. Golf courses, driving ranges, and pro shops usually utilize the facility to allow their members to continue practicing during those long winter months or rainy days so that their game improvement is not disrupted.
Those facilities with golf simulators are likely to attract more members than those who do not have one. Similarly, other recreational facilities, such as pubs, restaurants, resorts, or any other leisure and hospitality establishment can benefit from the popularity of indoor golf and provide their patrons more ways to enjoy themselves. As golf simulator technology has advanced over the years, it has made the previously expensive gadget more affordable and accessible. Therefore, if you want to gear up your revenues as well, invest in the best golf simulator package and watch your customers increase. Here are the best gadgets you can choose from.
SkyTrak SwingBay Golf Simulator Package
The SkyTrak SwingBay golf simulator, engineered by the team of rain or Shine Golf is a perfect combination of affordability and professionalism. It contains every feature that you can possibly ask for in a golf hitting bay. Equipped with a high-end Doppler radar tracking technology and high-definition picture quality, the SkyTrack SwingBay golf simulator is perfect for those who want an absolutely flawless, realistic golf experience. 
GC2 SwingBay Golf Simulator Package With FSX
Rain or Shine Golf, the creators of the GC2 SwingBay package has collaborated with Foresight Sports to offer certified pre-owned launch monitors. Now, you can use the same launch equipment used by pro golfers at a surprisingly cheaper rate. All the pre-owned items are thoroughly inspected and certified by ForeSight so that it meets all the quality standards and gives your customers complete satisfaction. It is the first device to use optical ball flight analysis technology, is widely known for its accuracy and game improving features. 
TruGolf Vista 10 Golf Simulator Package
The TruGolf Vista 10 Golf Simulator Package is another great product that fits right into your budget. It is one of the most popular golf simulators today because of its top-bracket quality and compact design. The defining quality of the product is its high-definition image quality and advanced swing analysis technology, combined with easy portability and installation. Apart from the essential hitting mat, and side nettings, the item contains an HD Vista projector and screen. However, the TruTrack2 system with multiple optical sensors makes it stand out among other leading brands. 
A premium-quality golf simulator can be a great asset to your business. Each of the options mentioned above can meet all your needs and help you to generate more revenue. So, choose the one that fits all your requirement and turn your establishment into a fun zone for your patrons.
SwingSense
We are a one-stop-shop for indoor golf equipment and supplies and a full-service digital marketing and distribution agency offering a wide range of solutions for the golf industry. With innovative data-driven marketing strategies, we help golf related businesses of any size maximize their online earning potential.
Related posts
Advertisement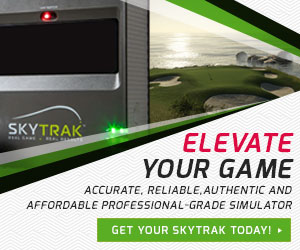 PRACTICE AND PLAY LIKE A PRO!
Imagine having the technology to play golf on your terms, and the insight to take your game to the next level. SkyTrak is a personal launch monitor that delivers instant and real-time 3D shot analysis and ball-flight data.
Learn more
Subscribe Now
* Become a SwingSense Newsletter subscriber to get access to exclusive insider offers, promotions and discounts!