With the advent of technology, golf training gadgets have also evolved unprecedently in the last couple of years. Thanks to these cutting-edge innovations, you don't have to blindly swing your drivers for hours without knowing where you are going wrong. Instead, they help you to precisely identify your drawbacks and help you refine your skills so that you are always on top of your game. As golf simulator software gained currency in terms of efficacy and popularity, innovators strived to leverage the technology to develop more refined software that might help in-game improvement. In this regard, swing analyzer software is the latest addition to the long list of golf training gadgets.
These clever pieces of technology assist you in understanding the game better and practice your swings accordingly. Among all the available swing analyzer software, Swing Catalyst has grabbed the experts' attention fastidiously. It has been widely acclaimed by professionals and coaches worldwide and has become immensely popular among tour professionals as soon as it was introduced. Read on to know more about this cutting-edge golf training gadget.
Overview Of Swing Catalyst
Currently, Swing Catalyst holds the #1 position among all the available golf video analysis software. It is powerful and delivers a top-notch performance. Besides, it is compact and comprehensive, which makes it an extremely user-friendly gadget. The video analyzer helps you track all your shots with powerful sensors and record them for future reference. It also displays all the necessary data points of your shots, helping you visualize your technique. 
The device incorporates the brand-new Sony IMX273 sensors to track your shots. It also features a range of high-speed USB 3.0 cameras to track your shots. The cameras provide up to 226 fps and produce crisp, high-contrast images in 1440X1080 resolution and 1.6 megapixels. It can also directly access the camera on your smartphone to capture and import videos.
Once recorded, it breaks down the entire shot and identifies key pointers, thus indicating your strength and weaknesses with each and every club. To make the process more effective, this phenomenal software utilizes drawing tools, video overlay. Slow-motion playback, as well as side-by-side comparison. As a result, you get a crystal-clear picture of your techniques which you may successfully leverage for game improvement.
The amazing video analyzer software does not only break down your shots efficiently but also offers a host of stunning features. It supports live video streaming for instant feedback on your shots from up to four high-speed cameras at once. Further, you can turn them into branded lessons.
Once you record the video summary, you can brand them with your logo, name, and contact details with just a single click of a button. You can also share them with your friends, family, and other players all over the world using YouTube, WhatsApp, mail, as well as Swing Catalyst website. You can also import videos from files or folders in your computer to Swing Catalyst. 
SwingSense
We are a one-stop-shop for indoor golf equipment and supplies and a full-service digital marketing agency offering a wide range of marketing solutions for the golf industry. With innovative data-driven marketing strategies, we help golf related businesses of any size maximize their online earning potential.
Related posts
Advertisement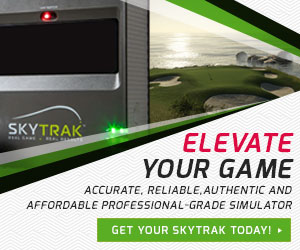 PRACTICE AND PLAY LIKE A PRO!
Imagine having the technology to play golf on your terms, and the insight to take your game to the next level. SkyTrak is a personal launch monitor that delivers instant and real-time 3D shot analysis and ball-flight data.
Learn more
Subscribe Now
* Become a SwingSense Newsletter subscriber to get access to exclusive insider offers, promotions and discounts!