An electric golf scooter is one of the most convenient accessories a golfer can invest in. It can save a lot of time while traveling between holes and also conserve some much-needed energy. One of the best and most popular scooter options in the market is the Rebel Trike XR model from Fat Tire. Take a look at some of its features and specifications below to know what to expect.

Useful Details Of The Fat Tire Rebel Trike XR Extended Range Electric Golf Scooter
The Rebel Trike XR Extended Range from Fat Tire is a convenient and easy-to-use vehicle. It can be controlled easily by anyone who is familiar with a bicycle. This turf-friendly and lightweight electric scooter causes a lot less damage to the greens compared to run-of-the-mill golf carts. 
This vehicle is equipped with two Lithium-Ion batteries. One of its 72-volt Lithium-Ion batteries takes roughly six hours to complete charging. The scooter has a substantial run time of more than 36 holes, but this can vary based on the weight of a rider and course conditions. Users can easily switch batteries while on the greens, with the quick-change function in order to obtain peak performance from this scooter. This is quite convenient for the needs of most golfers.
Speed, Comfort And Functionality
The Trike XR has a top speed of 15 mph. However, based on the rider's bodyweight and the topography, the pace can differ. Fat Tire's vehicles can support individuals who weigh upto 300 pounds comfortably. Users can also choose to get a different seat with more cushioning from Fat Tire, and this seat also offers greater heat resistance in sunny conditions.

The Fat Tire Golf Scooter is meant to be used in rainy conditions, but it is not recommended to do so as one might find on-course obstacles hard to navigate. This scooter has all electrical parts and battery placed under its seat. This is different from other scooters that have those in the floorboard. As a result, it is much better for offering protection against bad weather
Removable battery pack (with quick-swap technology)

Sand bottle

Tee holder

Durable golf bag holder

Battery voltage display

Cooler

Drink holder

LED headlight

110v outlet charger

Holder for scorecard
Suspension in the front and rear for a comfortable ride

Waterproof Differential AC Motor 

"Quick-Swap" Lithium-Ion battery

For enhanced comfort, it has a spacious well-cushioned seat

For increased stability, three big turf-friendly tyres are used

Bag holder made of strong aluminum that can carry even large tour bags

Scorecard, pencil, tees, small objects, balls, and a drink are all kept on the handlebar shelf

One-year limited warranty on the vehicle's parts
Take a look at the most important features and specifications of the Rebel Trike XR scooter from Fat Tire. It can be just what you need for your transportation needs and help you get better performance on a consistent basis.
SwingSense
We are a one-stop-shop for indoor golf equipment and supplies and a full-service digital marketing and distribution agency offering a wide range of solutions for the golf industry. With innovative data-driven marketing strategies, we help golf related businesses of any size maximize their online earning potential.
Related posts
Advertisement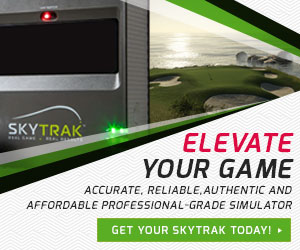 PRACTICE AND PLAY LIKE A PRO!
Imagine having the technology to play golf on your terms, and the insight to take your game to the next level. SkyTrak is a personal launch monitor that delivers instant and real-time 3D shot analysis and ball-flight data.
Learn more
Subscribe Now
* Become a SwingSense Newsletter subscriber to get access to exclusive insider offers, promotions and discounts!