Golf requires practice. And if you are serious about your game improvement, having an indoor golf setup can be the greatest blessing for you. While owning a golf simulator could help you a great deal, this is not mandatory. Even if you don't own a golf simulator, a quality hitting mat could help you practice your game when you can't access the driving range. Just find enough room to spread a mat and you can polish your driving, chipping, and putting skills, and get ready to be back on the course when it is time.
However, choosing a golf mat for your indoor golf system could be a crucial task. No matter how advanced your launch monitor is or how realistic a golf simulation software you own, it all boils down to the quality of your hitting mat. If your hitting mat is clumpy, heavy, or is made of subpar material, you will never get the true-to-life feel of the golf course. But the issue does not get over here. Faulty golf hitting mats could potentially affect your technique, as well as cause serious health problems such as back pain, tennis elbow, and so on.  
If you are still looking for the perfect hitting mat, go for Country Club Elite Golf Mat. This is not only the most value-for-money golf hitting mat available today, it also visibly eliminates most of the problems commonly present in ordinary golf mats. It ensures zero bounce and more importantly, gives you the most realistic feel you can expect from a hitting mat. Here is a closer look into the incredible features of Country Club Elite golf mats.  
Country Club Elite Golf Mat is a premium quality golf mat from Real Feel. The reputed brand is known for making the finest golf hitting mats in today's time. Country Club Elite is one of theirs higher-end products and therefore, you can easily guess its quality. The high-volume texture ensures enhanced longevity even with heavy use. 
The tufted turf is denser than the standard golf hitting mats and is twice in face weight as well. When you hit a ball on this surface, the golf club pushes into the mat and buffers the impact. Thus, it guarantees zero bounce and is milder on your joints.  
The major highlight of Country Club Elite golf mats is their realistic feel. If you are looking for the most true-to-life fairway feel with all the advantages of the real golf course, this is the stuff for you. Country Club Elite is designed with a special Long Dense Fibre system that imitates a lush fairway and absorbs, dissipates, as well as moves the downward impact of your iron just like true grass would.
Furthermore, Country Club Elite allows you to perfectly swing down and through with the correct motion. But what's more exciting is that this is the only golf hitting mat that takes a real tee. Country Club Elite is available in different sizes with the option of customization. So, bring home the best golf hitting mat and make your practice more perfect. 
SwingSense
We are a one-stop-shop for indoor golf equipment and supplies and a full-service digital marketing and distribution agency offering a wide range of solutions for the golf industry. With innovative data-driven marketing strategies, we help golf related businesses of any size maximize their online earning potential.
Related posts
Advertisement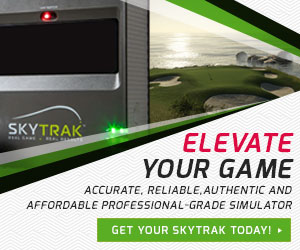 PRACTICE AND PLAY LIKE A PRO!
Imagine having the technology to play golf on your terms, and the insight to take your game to the next level. SkyTrak is a personal launch monitor that delivers instant and real-time 3D shot analysis and ball-flight data.
Learn more
Subscribe Now
* Become a SwingSense Newsletter subscriber to get access to exclusive insider offers, promotions and discounts!