Mastering your swing technique on your own is not impossible anymore. Thanks to advanced golf technology, you can now get the necessary support on the golf course via the wide range of golf training gadgets available. And to help you with swing, you can always rely on the top 3 golf swing analyzers.
This innovative device provides you with much-needed information. It can meaningfully assist you on the course with important pointers so that you can maneuver your shots get better at the game. Here are the top 3 golf swing analyzers in today's time. Have a look to know which one meets your requirements.  
Arcoss Golf 360 Performance Tracking System
The bestselling golf swing analyzer in 2021 was Arcoss Golf 360. In 2017, it won the Golf Digest Editor's Choice Award for the Best Game Analyzer of the Year. Going into 2022, it still rules the market for its phenomenal performance and impressive features. 
Arcoss Golf 360 consists of 14 powerful sensors. These high-end sensors, to be attached to your club, track all your club movements and yield a comprehensive game analysis. The amount of information and data points it can deliver is nothing short of unbelievable. And it can dramatically transform your game. The Tour Analytics feature will break your game down to approaching, driving, putting, and chipping—showing you where you need to put the extra effort into.  
The highlight of the swing analyzer is the dedicated Arcoss Caddie feature. Developed in partnership with Microsoft, this cutting-edge software goes a step further to offer you optimal strategy to hit every shot, no matter which hole are you playing. It also has impressive rangefinder features and comes with access to 40,000+ courses.  
Zepp Golf 2 3D is another immensely popular swing analyzer. Like Arcoss or Blast Golf, this also features powerful sensors to track and analyze your game. However, unlike them, you attach these sensors to your gloves instead of your clubs.  
As you swing, the sensors track the shot and immediately produce a 3D analysis considering your swing speed and plane. The Smart Coach feature will further give you comprehensive feedback along with helpful tips to help you make a better move on the ball. In short. Zepp Golf 2 3D gives you a complete report card on your progress, telling you how effective your swings are.  
This is another popular golf swing analyzer recommended by tour professionals, golf coaches, and even PGA champions. It is powered by Blast sensors that can attach to any club, be it woods or irons, and gives you a ton of important data on your game techniques. The sensors incorporate a natural motion capture, a unique technology that allows you to roll your putts and swing your club with equal ease. You can also record your game in real-time and review it later, thanks to the Smart Video Capture feature. 
The best thing about Blast Swing Trainer is the putting analysis and training guide. Unlike any other swing analyzer, it does not just focus on your swing; rather helps you in putting practice as well.  
SwingSense
We are a one-stop-shop for indoor golf equipment and supplies and a full-service digital marketing and distribution agency offering a wide range of solutions for the golf industry. With innovative data-driven marketing strategies, we help golf related businesses of any size maximize their online earning potential.
Related posts
Advertisement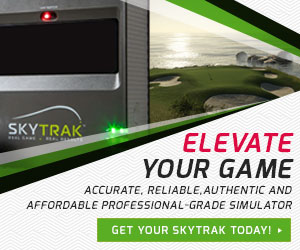 PRACTICE AND PLAY LIKE A PRO!
Imagine having the technology to play golf on your terms, and the insight to take your game to the next level. SkyTrak is a personal launch monitor that delivers instant and real-time 3D shot analysis and ball-flight data.
Learn more
Subscribe Now
* Become a SwingSense Newsletter subscriber to get access to exclusive insider offers, promotions and discounts!