Useful Details About the HomeCourse Pro Retractable Golf Simulator Impact Screen
SwingSense, 1 year ago
0
3 min

read
948
The most recent model created by HomeCourse is the Pro 180 Retractable Golf Simulator Screen. The pro-arm side netting has been replaced with Ballistic-grade material in the new variant to increase durability. Its Pro-arms may be utilized in the conventional configuration or opened to stretch to an ultra-wide 14-foot flat projectable surface, which is perfect for displaying content in a 16:9 ratio.
All it takes is a few seconds and a button click, and the HomeCourse transforms your room into an indoor driving range or enclosure for simulator use. After a practice session is done, all you need is another similar button push to restore an area to its original state. The convenience offered by this impact screen makes it a firm favourite of many golfers across the world. It functions almost everywhere, making it the perfect teaching, practising, and training tool for players and golf instructors. HomeCourse stands out from the competition because of its unchallenged affordability as well as a comprehensive number of features and advantages.

The Pro Arms & Sky Net of the Pro 180 Retractable Golf Simulator Screen by Homecourse has been designed to keep players within the game. Use a genuine golf ball when playing or practising so you won't have to be concerned about your poor strokes breaking a window or wall. You, your area, and everyone inside it are protected by the netting and the arms, which help to restrict stray shots. The Pro-arms may be utilized in their conventional form or can be opened to offer a remarkably large 14-foot flat projectable surface that is perfect for displaying a 16:9 aspect ratio. Users also get an extender tool for maximum convenience.

When you strike a live ball, allow it to wind back to your toes. The screen is constructed from ballistic-grade fabric that can withstand the force of a golf ball struck at point-blank range with a full swing. The bottom of the screen bends to allow the ball to roll down to your toes. A golf ball and enough space to swing freely are all you need.

It's not an issue if you lack the available room for a home golf simulator. HomeCourse has a beautiful open design and easily folds and withdraws to provide you with the space you want.

No unsightly cords to set up. A lithium-ion battery powers the motor, which may go for months without recharging. Use the wireless remote that comes with it to control the motor..

HomeCourse can fit quite well within your area. Install it on your wall or ceiling. You just require 8 feet of clearance, and you may choose the mounting method that best suits your needs.
Sizes and specifications:
Installing the HomeCourse Pro Screen requires that it be placed approximately 8 1/2 feet from the ground. It's okay to have a small amount of slack so that the ball can move in your direction after you strike it. Virtually any room that is 8′ 6″ H x 10′ W x 8′ D may be transformed into an indoor golf simulator or practise area by selecting a mounting option.

Take a look at the information above to get a better idea about the HomeCourse Pro Screen.
SwingSense
We are a one-stop-shop for indoor golf equipment and supplies and a full-service digital marketing and distribution agency offering a wide range of solutions for the golf industry. With innovative data-driven marketing strategies, we help golf related businesses of any size maximize their online earning potential.
Related posts
Advertisement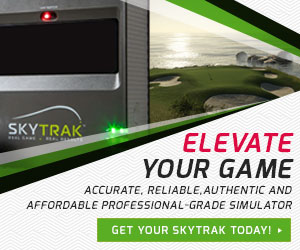 PRACTICE AND PLAY LIKE A PRO!
Imagine having the technology to play golf on your terms, and the insight to take your game to the next level. SkyTrak is a personal launch monitor that delivers instant and real-time 3D shot analysis and ball-flight data.
Learn more
Subscribe Now
* Become a SwingSense Newsletter subscriber to get access to exclusive insider offers, promotions and discounts!